Weather forecasts of today, 04.12.21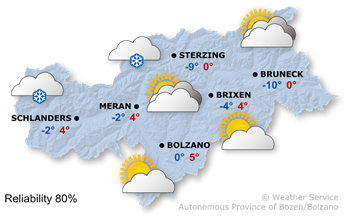 Variable cloudy
Weather Conditions
Humid air over the Alps.
Today's Weather forecasts
Cloudy, only few sunny spells. Some very light snow showers on the western border to Austria during the day. In the night light snowfall in the whole region. Level of snowfall between 300 and 500 m.
Weather forecasts of tomorrow, 05.12.21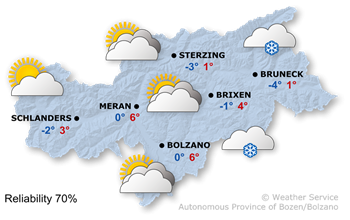 Variable
Weather Conditions
The front will slowly move away, from the west dryer air will reach the region.
Tomorrow's Weather forecasts
In the morning very cloudy, precipitations will stop in most parts of the region. Only in the east snowfall will continue during the day. In the western parts clouds will break up. Cold northerly winds.
Next days Weather forecasts
Snowfall midweek
Mon


Tue


Wed


Thu


reliability:
70%
70%
70%
70%
---
issued: 04.12.21, 11:00
© Provincia Autonoma di Bolzano